Yesterday, the Brin de Cocagne welcomed for the first time and certainly not the last, a pretty young lady called "Griotte".
Always in search of beautiful meetings and unusual activities for our guests, her look had not left me indifferent the few times I had crossed her in the old center of Albi …
So I made an appointment yesterday Monday with Marc Fanals, its happy owner.
2pm: I settled comfortably on the seats of the Lady. During the trip to Albi, her driver and passionate guide told me her beautiful story.
Griotte, nickname which refers to its pretty red color is the heir of a long line of 2CV.
It dates from 1985!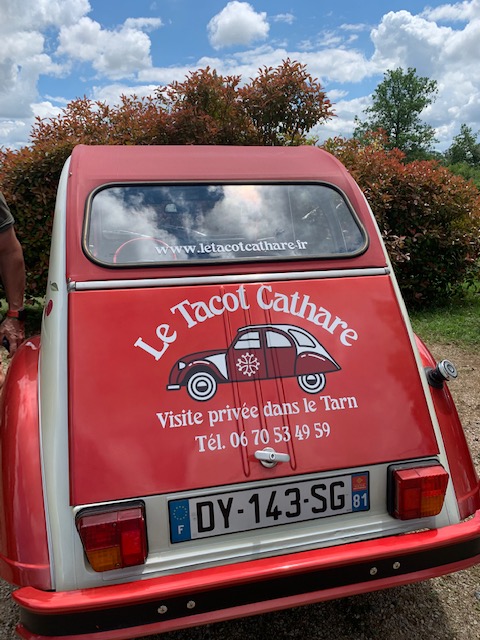 Its distant ancestor, designed to be an economical car, both in terms of purchase and maintenance, was presented for the first time to the public at the 1948 Paris Motor Show.
The reputation of the 2CV is made by itself, it goes everywhere, by all the times and on all the continents!
February 1989 : the French production line of the 2CV stops. The 2CV now goes down in history. Indeed, after 5 114 940 units produced in the world, the 2CV has become a myth and symbolizes a way of life.
The last of those that will be called "dodoches" leaves the factory in Mangualde, Portugal on July 27, 1990 … at 16H. (Extract from the website 2cv-legende.com)
But let's come back to our ride!
Marc Fanals, expert driver, while directing the car in the small tortuous streets of the episcopal city, (but I suspect Griotte knows perfectly the center streets of Albi ! :)) told me the history of the districts, of some monuments and especially a heap of anecdotes which I will let you discover when you succumb to one of the rides proposed by Tacotcathare.
I had chosen for my first experience with Griotte, the panoramic visit of Albi.
The weather was wonderful ! In addition to the beautiful views commented by my "personal" guide, I enjoyed thanks to the "rolled" hood, the "raised" windows, the smells and sounds of the city while letting myself be carried by Griotte's soft whispering and pitching and the warmth of the sun's rays at this time of the day…
In short, can you guess? During your next stay at BRIN DE COCAGNE, I strongly recommend you to book one of the tours proposed by Tacot cathare for an original and unusual experience.
Griotte will be happy to come and pick you up at Brin de Cocagne.